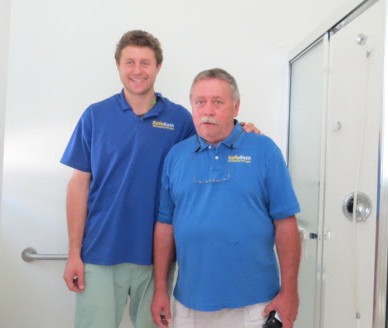 Our Story
Bathroom Safety services have been keeping customers safe for 7 years. Father and Son work everyday to keeping you safely bathing in the home. The company is founded on prompt and truthful customer service. Call us anytime for questions about bathroom safety or aging in the home.
Tom Welch ,Owner, spent most of his career in the greater West Chester area as a general contractor. Early on he realized the need for safer bathrooms. "When families bought their home 30 years ago, they did not think about the challenges that home would cause them as they age." stated Tom. Tom believes in making the proper improvements with your exact needs in mind. He will discuss and educate you with professional opinions. While also listening to what you want. Ultimately its about you, the customer. Each service is tailored to help you with bathing issues.
William Welch, sales and business development manager, brings a light energy and unique 2nd generation perception to the operations of SafeBathCo. He owned and operated a successful service company prior to joining his father. William is passionate about the services offered by SafeBathCo.
Tom and William agree, "The best part of the job is meeting each new customer. Their stories help us learn about their lives. It is a great way to learn about the past." "We enjoy making that connection. It's amazing to see how a bathroom grab bar can puts a smile on the someones face. They react with confidence and relief knowing their day just is now a little easier and safer." William explained.
Call 610-696-1693 and ask to speak with Tom. Install Bathroom Grab Bars Today For Safety Tomorrow.